HORSE HALTER & LEAD SET WITH NAME - black-silver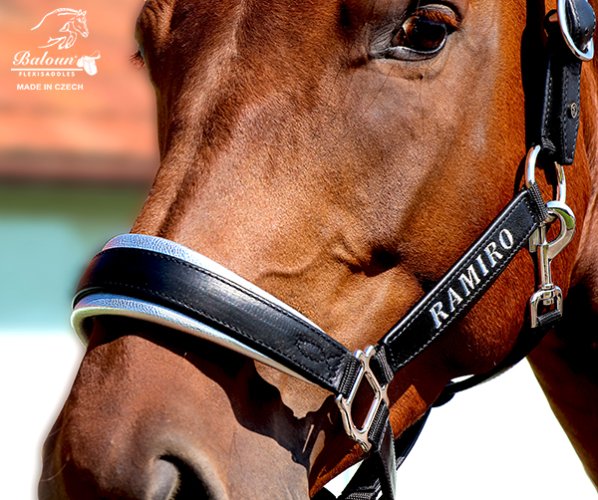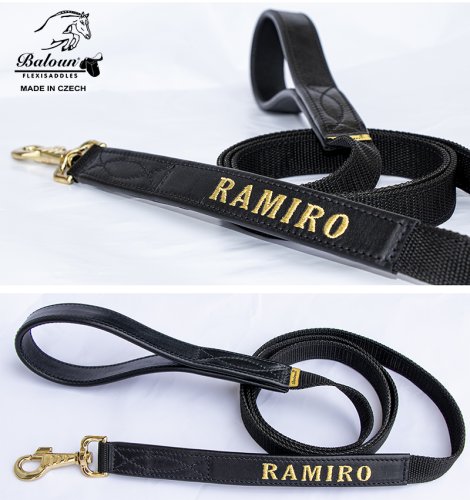 HORSE HALTER & LEAD SET WITH NAME - black-silver
Comfortable even for sensitive horses Real leather Czech product
---


Luxury set - leather halter&lead Baloun® in design combination black-silver leather with embroidered name of your horse. The name embroidered with silver metal thread is beautifully shimmering in the sun and looks elegant. More
Product code: VN15-9 Shipping and Payment


Luxury set - leather halter&lead Baloun® in design combination black-silver leather with embroidered name of your horse. The name embroidered with silver metal thread is beautifully shimmering in the sun and looks elegant. More
Product code: VN15-9 Shipping and Payment
Luxury set - leather halter&lead Baloun® in design combination black-silver leather with embroidered name of your horse. The name embroidered with silver metal thread is beautifully shimmering in the sun and looks elegant.
Leather halter made of luxury black leather is padded with silver leather. Padding is comfortable even for sensitive horses. Halter is very pleasant and soft but also strong. The halter is with rounded edges because it is made by a special wrapping technique where the nylon straps are wrapped in soft leather. Leather lead with nylon strap is very strong and pleasant to the hand, in case of slipping it will not burn you. This makes easier to hold the horse.
Thanks to high quality materials and handwork Baloun® halters and leads are easy maintain and long service life is ensured.
Write the name you want to emdrioder on halter and lead in capital letters in the text box. Font type and size is standardized and without punctuation.
Maximum number of characters including spaces is for size:
-pony: 8 characters including spaces
-cob: 9 characters including spaces
-full: 10 characters including spaces
It is also possible to add safety PANIC snap to the lead. The price in silver color is 3€.
The lenght of the lead is 200 cm including the snap. Pony size is 180 cm.