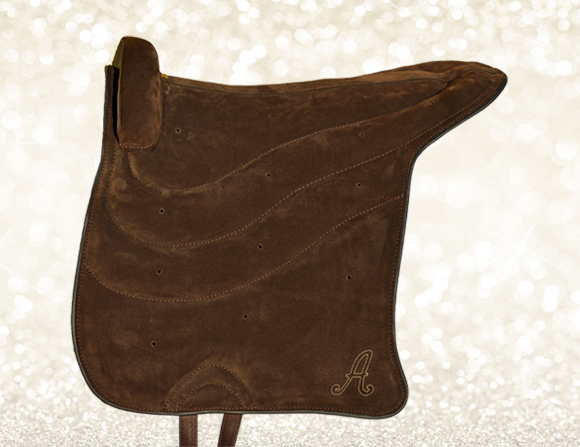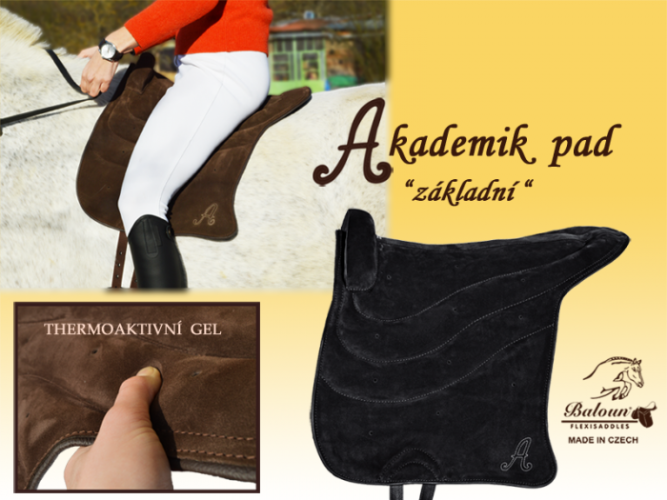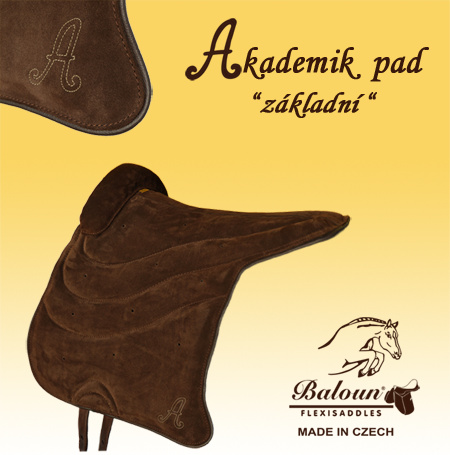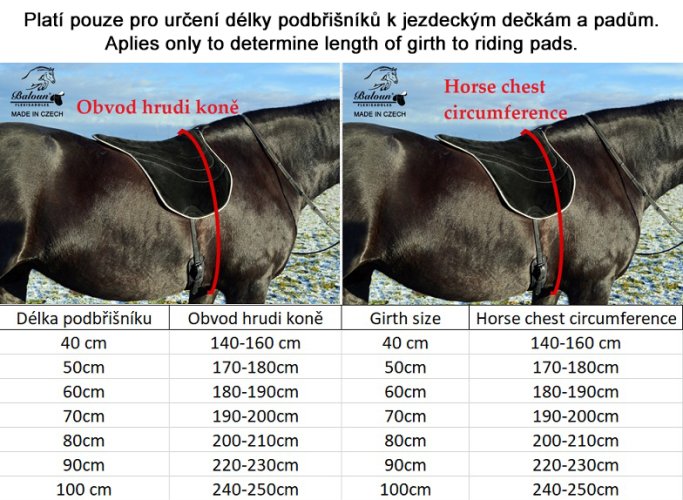 High comfort Real leather Czech product
---

ACADEMIC PAD – BASIC is anatomically shaped riding pad used for contact riding without saddle and stirrups, designed especially for dressage riding and riding styles such as Philippe Karl School of Légèreté etc. ACADEMIC PAD has extended vertically cut flaps and two girth straps. More
Product code: VN33-30 Shipping and Payment

ACADEMIC PAD – BASIC is anatomically shaped riding pad used for contact riding without saddle and stirrups, designed especially for dressage riding and riding styles such as Philippe Karl School of Légèreté etc. ACADEMIC PAD has extended vertically cut flaps and two girth straps. More
Product code: VN33-30 Shipping and Payment
ACADEMIC PAD – BASIC
is anatomically shaped riding pad used for contact riding without saddle and stirrups,
designed especially for dressage riding and riding styles such as 
Philippe Karl
School of Légèreté
etc.
 ACADEMIC PAD has extended vertically cut flaps and two girth straps.
ACADEMIC PAD
–
BASIC
is riding pad with two layers. The base layer is made of latex foam and
upper layer is made of
thermoactive gel.
Th. gel is on the entire upper surface of pad, it works on a heat basis and shapes according to the rider. Academic pad - basic is made of anti-slip velour leather and
perforated with ventilation vents. On the bottom side is a foam with a textile that is resistant to horse sweat and therefore it does not stiff.

Academic pad - basic is used directly on the horse without any saddle pads. Academic pad - basic is treeless and without

exchangeable gullet

, so it can be purchased without fitting.

It is necessary to tighten up the girth correctly for a good stability of Academic pad!
thermoactive gel copies the shape of the rider's sit and thanks to better stability rider can easily maintain a common center of gravity with the horse 

support of the correct use of shins, very suitable for correcting sitting and habits

thanks to close contact with the horse the rider learns to better perceive the movements and reactions of the horse, so we also recommend it for beginners and children

We recommend Academic pad - basic also for riders in higher weight categories. For sensitive riders who ride horses with high withers we recommend: ACADEMIK PAD - SPECIAL, PROFI PAD, TREKKING PAD

One universal size

we produce riding pads Baloun® only without stirrups for reasons of safety riding
To guarantee the correct function of the pad, we supply it AUTOMATICALLY as a set with a girth of our brand. Select the type of girth in product configuration.
Types of girths in set with the pad you find
here: girth - short straight
here: girth - short straight with thermogel
Why is it necessary to use original girth Baloun? All Baloun pads are developed and tested with an original girth. Our girth is with elastics on both ends and its elasticity is exactly as it needs for correct function of pads Baloun®. Some girths of other brands are without elastics and it can make a pressure on the horse or girths with too big elasticity of elastics can rotate or sliding on the horse. Because we can not guarantee girths of other brands we sell it only as a complet. If we are to guarantee a proper function of pads Baloun® it is neccessary to use it with girth Baloun®.
How to measure the circumference of the horse to correctly determine the length of girth?
The circumference of the horse is measured just behind the withers. The easiest way is to take the twine, measure the circumference and then remeasure the twine with a meter.